With everything that has been going on, it's time for some good news. At the beginning of May, I will be participating once again in the Feldenkrais summit, which features 35 experts in movement and wellbeing on various topics. This year's conference is titled "Move Better, Feel Better: Feldenkrais Awareness Summit," which I think is exactly what the world needs right now—to move better and feel better. If you're tired of staying home and not getting out and moving, this online conference is for you.
Here's what you need to know about the topics to be covered and how to watch and participate.
The Details
For the first week and a half of May, you can watch some of the world's top practitioners of somatics as they discuss how you can use movement to live a better life—all from the comfort of your own home. You can attend from May 1 – May 10 at your leisure. During the conference you will learn many different strategies, including the following:
Tools for increasing flexibility
Ways to decrease effort and stress
Strategies for reducing pain
Exercises to help deepen your awareness
With host Cynthia Allen and co-host Lavinia Plonka as guides, you will have the opportunity to attend 36 sessions.
To learn more about this year's Feldenkrais Awareness Summit and get your free ticket, use my affiliate link here. While the conference is free for the first 48 hours, you will have the option to upgrade for an All-Access Pass if you want to listen at your leisure in the weeks or months to come. If you do upgrade, I may receive a portion of that sale and will be grateful for it. Any proceeds that I receive will go directly into a scholarship fund that I have established for folks who are unable to access services at Montgomery Somatics because of financial limitations due to COVID-19.
The Sessions, Lessons, and Guidebook
The 36 sessions will be divided into themes—Sports, Fitness, Spirituality Meets Physiology, Emotional Intelligence, Grace while Aging, Physical Challenges, Embodied Anatomy, Essential Feldenkrais, and Somatics at Large.
In addition to access to the sessions, you will also receive two movement lessons each day of the conference. These Awareness Through Movement® lessons are just what you need to feed your body and your mind during this stressful, difficult time.
When you claim your free ticket, you will also receive the Inspirational Guidebook from the 2020 Feldenkrais Awareness Summit. In this e-book, each expert from the conference shares a favorite inspirational quote as well as guidance on how to apply it to your daily living.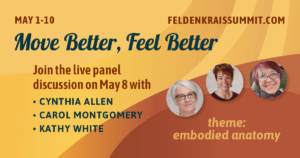 My Panel on Embodied Anatomy
I am so thrilled to be a part of this year's summit. I will be part of a panel discussion on May 8th on Embodied Anatomy along with the panel host Cynthia Allen and co-panelist Kathy L. White. I plan to write a more in-depth post about what my panel in early May, so I won't go into too much detail now, but here are a few thoughts and questions that have been on my mind.
What does it mean to embody something? To embody is to give a tangible or visible form to an idea, thought, or feeling
If you embody someone, you put him or her "in-body," as when an actor gives a complete and compelling representation of a character. You can also use embody to describe character traits you see in a person. For instance, you can say, "He embodies truth," or, "She is the embodiment of goodness."
Embodiment also functions as an educational tool. Embodied learning is an educational method that has been around for a while in (primary) education. In this method, one does not only offer an intellectual way of teaching, but also involves the whole body. The idea behind this method is this: by making it physical, the teaching material will be more effective, as embodiment determines the body as the anchoring unit for self-conscious experiences.
Is the human person an embodied Soul, or is spirit an embodied human?
Man is a composite of body (her material aspect) and Soul (the spiritual aspect). Thus, the human is an embodied spirit. Or is Spirit an embodied human? Man cannot exist without these two essential components. The body cannot exist without its soul and vice versa.
These are just a few of the ideas surrounding embodiment that I will be discussing with my colleagues on May 8th.
Get Your Free Ticket to the Feldenkrais Awareness Summit and Sign Up
While we can't see each other face to face or give each other a hug, we can still connect. I hope that you are able to attend this wonderful event. It will be a wealth of knowledge and resources that you can use for years to come. If you have any questions, please don't hesitate to contact me. Get your free ticket here.